Our published memoirs are professionally printed by Lulu Books in North Carolina. Below is one example. (Just click once on any photo to enlarge and see further detail.)
This client is an avid golfer, and the book cover and case were designed to reflect that. Cover colors, typeface and images vary with each client. Please note that the client's name has been airbrushed out of the photograph for online privacy reasons, at his request. It would usually appear under the title.
And here's the decorative case. I re-purposed a lovely green leather hardcover book about golf for this purpose, but each case is different, customized to the story and personality of its owner. Others have included photo-embellished archive cases and antique wooden boxes.
This is the inside of the opened case. The original book's pages have been removed and decorative papers affixed inside. The envelope at left holds a CD with samples of the client's audio interviews. On the right is a handmade quilted wrap that protects the memoir, which nestles inside a custom-fitted box: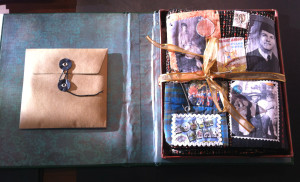 Finally, here's a close-up of the top section of the protective wrap. The quilting is hand-stitched and beaded. The images are fabric-printed photos. They include the client's mother as a young woman (top left), the client himself at his high school graduation (top right), the client with his father and younger brother (bottom right), images from his time at Notre Dame University (bottom left), and the cover of the his favorite book from childhood (center). Custom embellishments include a tiny silver arrow and leather fringe to reflect the client's lifelong interest in American Indian culture, a St. Christopher medal honoring his Catholic faith and heritage, and the registered Notre Dame tartan with kilt pin.